Brent Larson Motorsports Signs Motul as Primary Sponsor
Global Motor Oil and Lubricants Manufacturer to Serve as Primary Sponsor of Brent Larson in the World of Outlaws Late Model Series.
Lake Elmo, Minnesota (Jan 4, 2021) – Brent Larson Motorsports is pleased to officially announce it has signed Motul as its new primary sponsor in the World of Outlaws Morton Buildings Late Model Series.
"Brent Larson Motorsports is a perfect fit as we continue to expand our racing efforts in North America," said Nolan Browning, Motul Brand Manager. "We'll be working closely with the team to continue testing and refining our legendary racing products and make sure they have the performance needed out on the track.".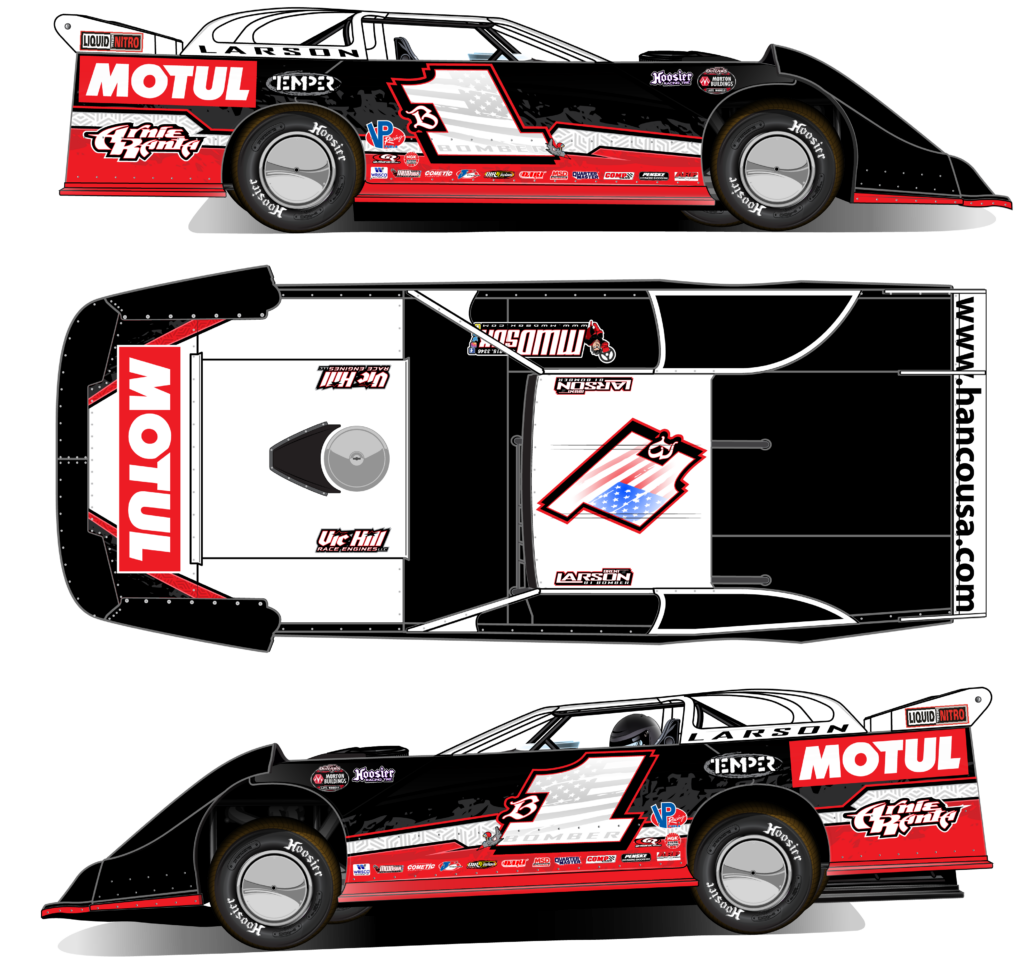 Larson is a multi-championship winning dirt late model race car driver with over 104 career wins to his name and too many top-podium finishes to count. He is the 2007 DTRA Late Model National Champion and has won the prestigious Cedar Lake Speedway track championship 5 times. Larson has also won both Superior Speedway and Red Cedar Speedway track championships each once and he won the KRA Speedway track championship in 1995. He currently sits seventh on the all-time Late Model win list at Cedar Lake Speedway with 28 victories in the division, dating back to his first Late Model win at CLS in 2006. Brent spent most of the 2020 season building his program for 2021 and still managed to finish the season 10th in points and set the fast time at Williams Grove speedway in August. He also had several impressive qualifying efforts throughout this past season. 2021 will kick off with the World of Outlaws at Volusia speedway in Barberville, FL January 14th-16th.
"I'm beyond excited and very thankful to have a new long-term title partner with Motul, it's great to represent a truly premium global motor oil and lubricant brand with such a rich history in motorsports," said Brent Larson. "I'm immensely proud to represent Motul in the World of Outlaws Series and be a part of such a great organization. I can't wait to get back out there and start racing again. We've made a lot of changes to our program, our motor program is the best it's ever been, and we are excited to debut our new Motul powered Rocket XR1 chassis too," Larson continued.
The deal was overseen by motorsports marketing and sponsorship agency Drive Motorsports International.
About Motul – Motul is a world-class French company specialized in the formulation, production, and distribution of high-tech engine lubricants for two-wheelers, cars, and heavy-duty applications. Present in more than 80 countries, Motul USA was established in 1989 as a subsidiary of Motul France and is based in Southern California. Motul is recognized as the specialist in synthetic lubricants. As early as 1971, Motul was the first lubricant manufacturer to pioneer the formulation of a 100% synthetic lubricant for automotive engines, the 300V lubricant, making use of Esters technology from the aeronautical industry.
Throughout the years, Motul has gained experience as an official supplier to many racing teams and manufacturers, continuing to push new technological development in motorsports. Motul is currently supporting teams in international competitions such as 24 Hours of Le Mans (cars and motorcycles), Best in the Desert, FIA World Endurance Championship, IMSA WeatherTech SportsCar Championship, Super GT, Formula Drift, World of Outlaws, Pikes Peak, Dakar, MotoGP, World Superbike, World MX, FIM Endurance World Championship, IOM TT, and a score of others.
Follow Motul USA on Facebook, Instagram, and Twitter at @MotulUSA
About Brent Larson – Brent is a multi-championship winning dirt late model team in the Morton Buildings World of Outlaws Series. Please visit, brentlarsonmotorsports.com or on Facebook @brentlarsonmotorsports or on Instagram @brentlarsonmotorsports.